Click here to Download the Amazingcharts EHR Video Demo
Amazingcharts EHR is a fully integrated, CCHIT®-certified, cloud-based EHR solution that is guaranteed to help physicians meet meaningful use requirements.
With Amazingcharts EHR, physicians can access electronic health records seamlessly from any location through a secure and centralized gateway. Combining clinical and business workflows into one comprehensive system helps physicians save staff time, enhance practice productivity, and simplify administrative workflows. Amazingcharts EHR is a:
Cost-effective, high functionality system with a low pay-as-you-go monthly subscription fee
Web-based system that provides secure, one-click access to patient charts, refill requests, and lab results from any internet-connected computer
Powerful solution that is fully integrated with Amazingcharts PM and requires no IT staffing, software, or hardware costs
Easy to implement and use
Amazingcharts EHR is easy to implement, install, and use and provides a secure alternative to traditional, client-based EHR systems. With Amazingcharts EHR, authorized users can:
Log in to their EHR and practice management systems (PMS) via a secure web browser using a PC or laptop
Access patient records and review medications, patient history, recent orders, and test results
Initiate the process of generating electronic prescriptions and send them to the appropriate pharmacy
Meaningful Use Dashboard
One of the most helpful features of Amazingcharts is the Meaningful Use Dashboard, which includes constantly-updated, colored bar charts with indicators to show the practice's progress on important Meaningful Use criteria. It will also link providers to explanations of the criteria and identify which patients need more information to meet those standards.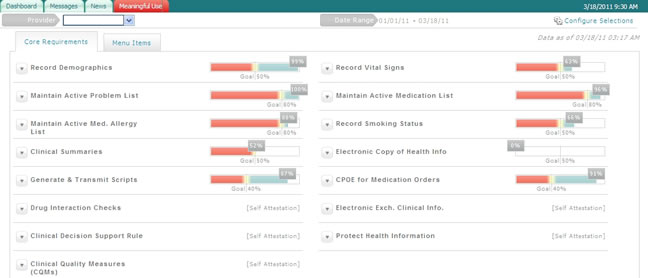 Low-cost, high functionality
Amazingcharts EHR is available with a low upfront investment and an affordable monthly subscription that allows you to pay as you go and includes the following features:
Modular implementation options that allow you to only pay for what you use
All interfaces are built and maintained by Harris, so you can be paperless on the first day of implementation
Harris hosts the software and a central library of interfaces so you'll have instant access to the updates you need
Patient education
Harris has recently partnered with Krames, a leading provider of patient education and consumer health resources. Krames' content makes complex medical issues easy to understand so that patients and their families can make informed decisions regarding their care. This comprehensive database of patient-friendly education includes:
More than 4,700 titles available in multiple languages
3,100 HealthSheets™ spanning 38 specialty areas
1,400 concise, after care instructions
E&M Evaluator
The new E&M Evaluator application helps identify the most appropriate evaluation and management (E&M) CPT® code to use when charging for office visits and consultations.
Continuity of Care Documentation (CCD)
Amazingcharts EHR's CCD helps providers exchange key clinical information and provide a summary of care record for each transition of care and referral.
Enhanced patient privacy and confidentiality
Amazingcharts EHR protects the privacy and security of patient's personal health information (PHI) through its emergency "break the glass" technology available for all patient medical records.
Clinical decision support
Amazingcharts EHR will automatically alert physicians of a test or exam required as part of the quality measure pertaining to their practice, and patients will automatically be placed in the appropriate registry based on certain criteria.
Enhanced prescription functionality
Recently, Amazingcharts EHR was awarded the highest level of Surescripts® certification available, underscoring our commitment to provide a safe, compliant, and efficient electronic prescription solution.
Compare features and implementation.
See how Amazingcharts meets these important EHR considerations.
Amazingcharts, next-generation EHR, versus other traditional EHRs.
Amazingcharts EHR
Traditional Client-Server EHR
Technology
Web-based
Server-based, housed within practice
Initial cost
Low: no hardware or software purchase required
High: requires hardware and software purchase
Ongoing cost
Low: monthly subscription rates
Medium
Implementation
Low impact: incremental deployment possible
Potentially disruptive: can require full-scale conversion
Accessibility
High: secure 24/7 access from any PC with Internet access
Low: accessible only from dedicated PCs within the practice
Opportunity for incremental ROI
High: practice management modules can significantly improve reimbursement rates
Not typically available
Obsolescence risk
Low: software and data updated continually by OptumInsight
High: practice is responsible for updating data; users may be required to pay for software upgrades
Impact of staff turnover
Low: online tutorials allow new users to easily teach themselves
Medium: systems may be more difficult to learn
Pay-for-performance (P4P)
Yes: fully integrated
Maybe: existing system may need to be reconfigured
Connectivity
High: easily exchange information with payers and other caregivers
Typically limited
For more information, download the product sheet.
CPT is a registered trademark of the American Medical Association.
Amazingcharts 7.0 is a 2015 CCHIT Certified Ambulatory EHR.